TIME
5 Hours
Pause and resume course as required
NEXT CLASS BEGINS
Online
You will have access to course right away
CERTIFICATION
E-Certificate
Doing business with Preventive Control Plans
In January 2019 we saw our first glance of the Safe Food for Canadians Regulations (SFCR) and what they mean for Canada's food and beverage processing industry. The foundation of these regulations will surround "Preventive Control Plans" also known as PCPs. CFIA will be enforcing the new regulation and will evaluate your organization to be in compliance with PCPs.
Food Processing Skills Canada (FPSC) is pleased to offer Canada's best full length online Preventive Control Plans (PCP) course that is catered to all audiences – whether you're a seasoned expert or are new to food safety- this course is for you! The course is aligned with CFIA's standards and will help you quickly get up to speed on all the information.
You probably have some questions like… What does this mean for my food business? What if I already have a HACCP Plan, do I also need PCPs? Are all businesses required to have PCPs? We can help you answer those!
Did you know under the regulations?
ALL food and beverage businesses, regardless of size, will be required to implement "preventive control measures" in the next 1 to 3 years.
All organizations earning over $100K in gross annual food sales will also be required to have "written preventive control plans" in addition to implemented measures.
About this course
An Introduction to
Preventive Control Plans (PCP)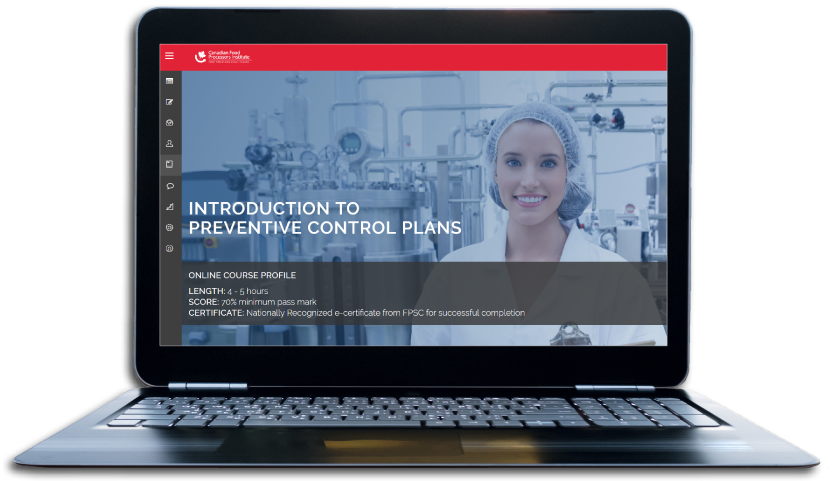 This interactive self-paced course will increase your awareness and understanding of the proposed Safe Food for Canadians Regulations, its impact on your business, and Preventive Control Plans (PCP).
You will learn about why Food Safety and Traceability are the foundation of all HACCP-based plans, and how we all share a greater responsibility to insure the safety of our food. This course will introduce you to the concept of preventive food safety controls, what they are, how they fit in with your business, and if your business is required to have a PCP.
We will cover how controls are developed and how to approach implementation of the updated plan. This is a great course for food businesses, importers, exporters, processors, retailers, food safety experts, consultants and those who need an overall understanding of both the proposed CFIA regulations, licensing, and origin based concept of PCPs. This course will provide you with practical training on how to get started.

Student Support
24/7 Access to Training & Support

Virtual Instructor
Voice Narrated Content

Certification
Nationally Recognized
E-Certificate

User Friendly
Easy to use.
Who should take this course?
This program is designed for businesses of all sizes that produce or participate in the food and beverage manufacturing industry. Whether you actively manufacture and require a plan, or your involvement means you need to gain a better understanding of the new Canadian food safety regulations. These new requirements will change the way you do business, and this program will provide the information you must have.
Business Owners & Operators
Managers of micro, small and medium sized food businesses
Employees responsible for food safety
Importers and Exporters
HACCP Coordinators
QA and QC Professionals
Entrepreneurs & New Food Business Start Ups
Food Retail
Consultants
Large companies who want to know the differences between the food safety plans they have and a PCP
Government inspectors at various levels (federal, provincial, municipal)
Topics Covered
The Introduction to Preventive Control Plans online course has nine interactive modules providing step-by-step directions, templates, guides, videos and resource materials available to you 24/7 in English and French versions. As an industry specialist or consultant, add value to your services by providing your clients with nationally recognized certificates to show their auditors.
Do I Need a License? Interactive Guide.
Safe Food for Canadians Act and Regulations
Traceability Requirements
Preventive Food Safety Controls
How to Develop Product Descriptions
Interactive Process Flow Diagram Creator
What Part of Your Business Requires a Require a Preventive Control Plan?
Develop a Preventive Control Plan
Templates for Your Plan
Interactive Guide to Implementing Your Plan
How to Maintain and Update Your Preventive Control Plan
Safe Food for Canadians Breakdowns
Interactive Assessments