TIME
1 Hour
Pause and resume course as required
ANIMATED
All Modules
Each module has been specially audio and video animated for your learning and comprehension
CERTIFICATION
E-Certificate
Temporary Foreign Workers During Covid-19
Integrate comfortably into Canada as a temporary foreign worker during Covid-19 with this comprehensive course on the Covid-19 outbreak and the best practices to keep your family and workplace safe while preparing for work in the Canadian Food and Beverage Industry.
Each module has been developed to make understanding and putting Covid-19 safety practices in place simple. Learners advance to master each complete lesson at their own pace, with interactive support and feedback along the way. Temporary Foreign Workers During Covid-19 is designed to make the thought processes and critical knowledge every travelling professional needs to work safely and effectively in Canada during the outbreak of Covid-19.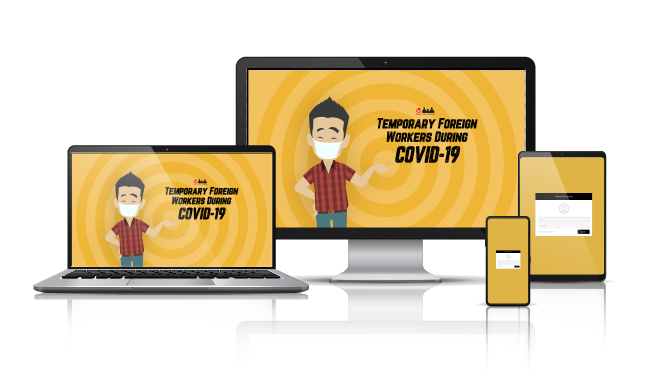 We will take a closer look at new procedures and best practices put into place by the Canadian government and Canadian employers to keep workers safe during this pandemic. Every temporary foreign worker travelling to Canada will experience extra security and health checks as they travel during Covid-19.
We will review the effects Covid-19 has had on immigration across Canada and how it may also affect you as a temporary foreign worker.
We will take a closer look at the effect Covid-19 has on our normal daily routines at work and at home we will also provide you with helpful tips on staying safe, and discover ways to protect yourself and your coworkers from getting sick. When you finish this course, you will be an expert.

Student Support
24/7 Access to Training & Support

Virtual Instructor
Voice Narrated Content

Cost Effective
Affordable for everyone

User Friendly
Easy to use.
Who should take this course?
Temporary Foreign Workers travelling to Canada to work in the food processing plants, facilities or farms during COVID-19
Seasonal Agriculture Workers coming to Canada to work temporarily on farms during COVID-19
New Permanent Residents re-locating to Canada to work as an essential worker in the food industry during COVID-19

Canadian Employers who want to become familiar with best practices for temporary foreign workers during COVID-19
Temporary foreign worker
Seasonal agriculture
New permanent resident
A Canadian Employer hiring from outside Canada
Topics Covered
Temporary Foreign Workers During Covid-19 includes 6 robust modules of Covid-19 knowledge and best practice for the Canadian Food and Beverage Processing industry. To enhance your learning, this tool provides animated video clips, timed knowledge checks, explanations and much more to guide you along the way to safety during Covid-19!