TIME
9 Hours
Pause and resume course as required
NEXT CLASS BEGINS
Online
You will have access to course right away
CERTIFICATION
E-Certificate
Prepare for a Career in a Multi-Billion Dollar Industry
Meat processing is a large and integral part of the Canadian economy. As the biggest subsector of Canada's food and beverage processing industry (itself the second-largest manufacturing sector in the country by revenue), meat processing accounted for 25 per cent of the country's food and beverage exports and $26.3 billion in 2014. Meat processing is also Canada's largest food and beverage manufacturing employer, with 64,500 workers in 2015.
Industrial meat cutters have the knowledge and skills to safely operate equipment to process farm-raised animals into meat products, according to organizational, industry and regulatory standards. Industrial meat cutters work in fast-paced, combined labour intensive and automated environments.
The scope of the Industrial Meat Cutter occupation includes the receiving of live animals through to the breakdown of the animal into primal, sub-primal and retail cuts and into food packaging. Industrial meat cutters must continually adapt to changing quality, regulatory standards and workplace technologies. For example, the way that meat is cut and processed can vary significantly according to export market (e.g., pork that is being shipped to Japan is processed according to different specificationthan pork destined for Canadian supermarkets).
About this course
Food Safety and Meat Processing 101
Food Safety & Meat Processing 101 is an interactive, online course that focuses on Industry Legislation & Regulation, Workplace Policies & Procedures, Food Processing Equipment, Workplace Health & Safety, Meat Types and Cuts 101, Knife Sharpening, Food Safety, Cleaning and sanitation including waste, Product Quality, Food Traceability and Communication & Leadership Skills.
The goal of this training is to provide knowledge on food safety, understanding hygiene practice and protective equipment and safety in the workplace, understand meat cutting essentials, cleaning and sanitizing, knowing and following product quality and food traceability and finally provide great communication skills in the industry and uphold its legislation and regulations.
With a growing demand for skilled employees in the Canadian meat industry, this one-of-a-kind training program will offer you the opportunity to gain new skills or refresh old ones in subjects such as food safety, food quality, knife handling, meat cutting, hygiene, workplace safety, and sanitation.

Student Support
24/7 Access to Training & Support

Virtual Instructor
Voice Narrated Content

Certificate
Nationally Recognized
E-Certificate

User Friendly
Easy to use.
Who should take this course?
This program is designed for businesses of all sizes that produce or participate in the food and beverage manufacturing industry. Whether you actively manufacture and require a plan, or your involvement means you need to gain a better understanding of the new Canadian food safety regulations. These new requirements will change the way you do business, and this program will provide the information you must have.
Currently employed industrial meat cutters
Entry-level hires and temporary foreign workers in meat processing plants
Unemployed or underemployed youth and adults
Adults interested in careers in food processing
High schools' recent graduates in municipalities where meat processing plants are located
Post-Secondary meat programs
Topics Covered
This course will serve as an introduction to the basic knowledge and application requirements to successfully perform all the job competency requirements of an Industrial Meat Cutter.
There are 12 modules for us to review together, each one containing pertinent information for the Canadian meat processing industry. Each of these modules will help you learn new or refresh old skills needed to grow and flourish in your career, as outlined in the National Competency Standards for Industrial Meat Cutters.
About Canada's Food Processing Industry
Food Safety
Meat Cuts and Types
Good Manufacturing Practice (GMP) Basics
Corporate Policies and Employer Responsibilities
Personal Protective Equipment (PPE)
What is Food Safety?
Types of Cross Contamination
Basics: Knives and Saws
Safety Of Knife Handling
Why is it Important to Clean?
What is Sanitation and Why Do We Do It?
Product Inspection, Safety and Quality
The Basics of Traceability and Recall
Communicating Effectively
Canadian Food Law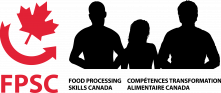 For more information, contact: