Empowering, Inspirational Team Building
Leadership Skills for Supervisors
Communication, Coaching & Conflict
TIME
2 Hours
Pause and resume course as required
NEXT CLASS BEGINS
Online
You will have access to course right away
CERTIFICATION
E-Certificate
Ready to begin your leadership journey?
Leadership is not about a title or a designation. It's about impact influence and inspiration. Impact involves getting results, influence is about spreading the passion you have for your work, and you have to inspire team-mates and customers. – Robin S. Sharma, Author of The Monk who Sold his Ferrari
Supervisors represent an important force in the economy. You have the power to turn on or turn off the productivity of the people who report to you. You are the crucial interface between the employee on the shop floor or the service desk and the managers of the organization. Although you usually have more technical experience than the employees you supervise, you may not have had a lot of leadership experience. This course will give you the skills in communication, coaching, and conflict that you need to be successful.
Become the leader you were born to be
Develop strong teams through leadership & coaching
Learn the advantages of every leadership style
Create an empowering environment for others
About this course
Leadership for Supervisors:
Coaching, Coaching & Conflict
This interactive self-paced course will increase your awareness and understanding of the skill-sets and mental states of yourself and those you work with. Understanding yourself and others positions you to effectively motivate individuals, reduce stress and optimize productivity in your workplace.
This course gives participants an understanding of the different mindsets we all have, how they communicate and best apply their talents and aptitudes to their work. No matter where you are on the spectrum, this course highlights the skills you have that make you great leadership material and also covers the tips and tricks that define successful leaders in every industry.
Whether a seasoned manager or gearing up for a new supervisory position, this course is an excellent resource to better manage oneself and others in a team environment. Don't hesitate to add this inspirational training material to your online learning portfolio today!

Student Support
24/7 Access to Training & Support

Virtual Instructor
Voice Narrated Content

Certification
Nationally Recognized
E-Certificate

User Friendly
Easy to use.
Who should take this course?
This program is designed for businesses of all sizes regardless whether you produce or participate in the food and beverage manufacturing industry. Whether you actively manage a team, are considering accepting more responsibility at your workplace or looking to better manage both yourself and others this course is a must have. Empower, Inspire and become the leader you were born to be now!
Supervisory & Management
Business Owners & Operators
Managers of micro, small and medium sized food businesses
Entrepreneurs & New Food Business Start Ups
Human Resources Professionals
Consultants
Topics Covered
The Leadership Skills for Supervisors online course has ten interactive modules providing step by step personality analysis, case studies, exercises and other tools to maximize your effectiveness as a leader. All available to you 24/7 in English and French versions. 

As an industry specialist or consultant, add value to your services by providing your clients with nationally recognized certificates to show their auditors.
Learn ways to prioritize, plan, and manage your time.
Identify your primary leadership style.
Develop some flexibility to use other leadership styles.
Determine ways you can meet the needs of employees and co-workers through communication and coaching.
Explore ways to make conflict a powerful force for creative, well-rounded solutions to problems.
Learn how to effectively manage performance
Bridging Commitment gaps
Understanding and Applying the Consequences & Benefits Matrix
Dealing with Conflict and Difficult Circumstances
Developing Proven Positive Leadership Qualities
Establishing a Positive Empowering Environment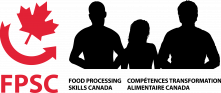 For more information, contact:
Dayna Poulin, Manger of Training Development & Communication
Email: dpoulin@fpsc-ctac.com
Phone: 613-237-7988 x 226