TIME
3 Hours
Pause and resume course as required
ANIMATED
All Modules
Each module has been specially audio and video animated for your learning and comprehension
CERTIFICATION
E-Certificate
This course will provide understanding of the importance of having food safety program and how every person working there can have either a positive or a negative impact on a food safety.
You will learn that food safety hazards are biological, chemical, or physical substances that could make a food product unsafe to eat and cause illness, injury or death of a person.
You will also hear how biological, chemical and physical hazards can be harmful to human health and how to prevent and control them.
You will also hear why the Prerequisite programs and HACCP Plan are important part of the HACCP System.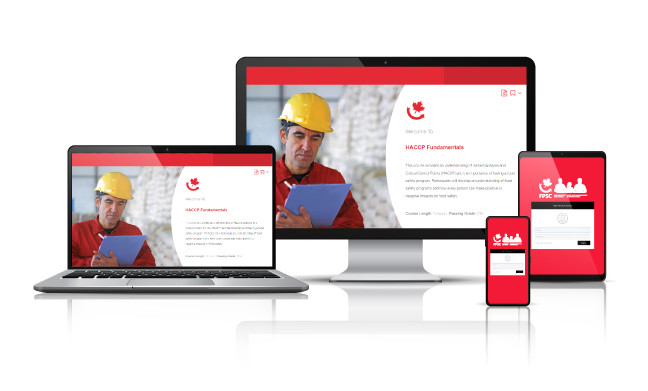 Participants that have completed the course, will understand and be prepared to put into practice on the job the following:
What the HACCP system is;
The benefits of the HACCP system;
Types of hazards and how to control them;
GMP and Prerequisite Programs;
HACCP plan development and implementation;
HACCP system maintenance and review;
Reasons a HACCP may fail and the most common non-conformities related to HACCP;

Student Support
24/7 Access to Training & Support

Virtual Instructor
Voice Narrated Content

Cost Effective
Affordable for everyone

User Friendly
Easy to use.
Who should take this course?
This course provides guideline for Line Workers in any type of food processing facility.
Topics Covered
HACCP Fundamentals gives your staff everything they need to know to support, maintain and improve your jobsite food safety culture.

This includes 5 robust modules covering Food Safety Programs, Food Safety Hazards, Hazard Sources, Controlling Hazard Sources, and the Elements of a professional HACCP Plan.